There are two through which you can install Engagespot on your web dashboard. One through the initial setup process that you see right after setup, and the next one is from the "App Settings" are of your Engagespot account.
Initial Setup Wizard
Soon after you create a new account on Engagespot, you'll see a guided step by step process that assists you in setting up Engagespot on your web dashboard.
STEP 1. To continue the setup process, click Setup Push Notifications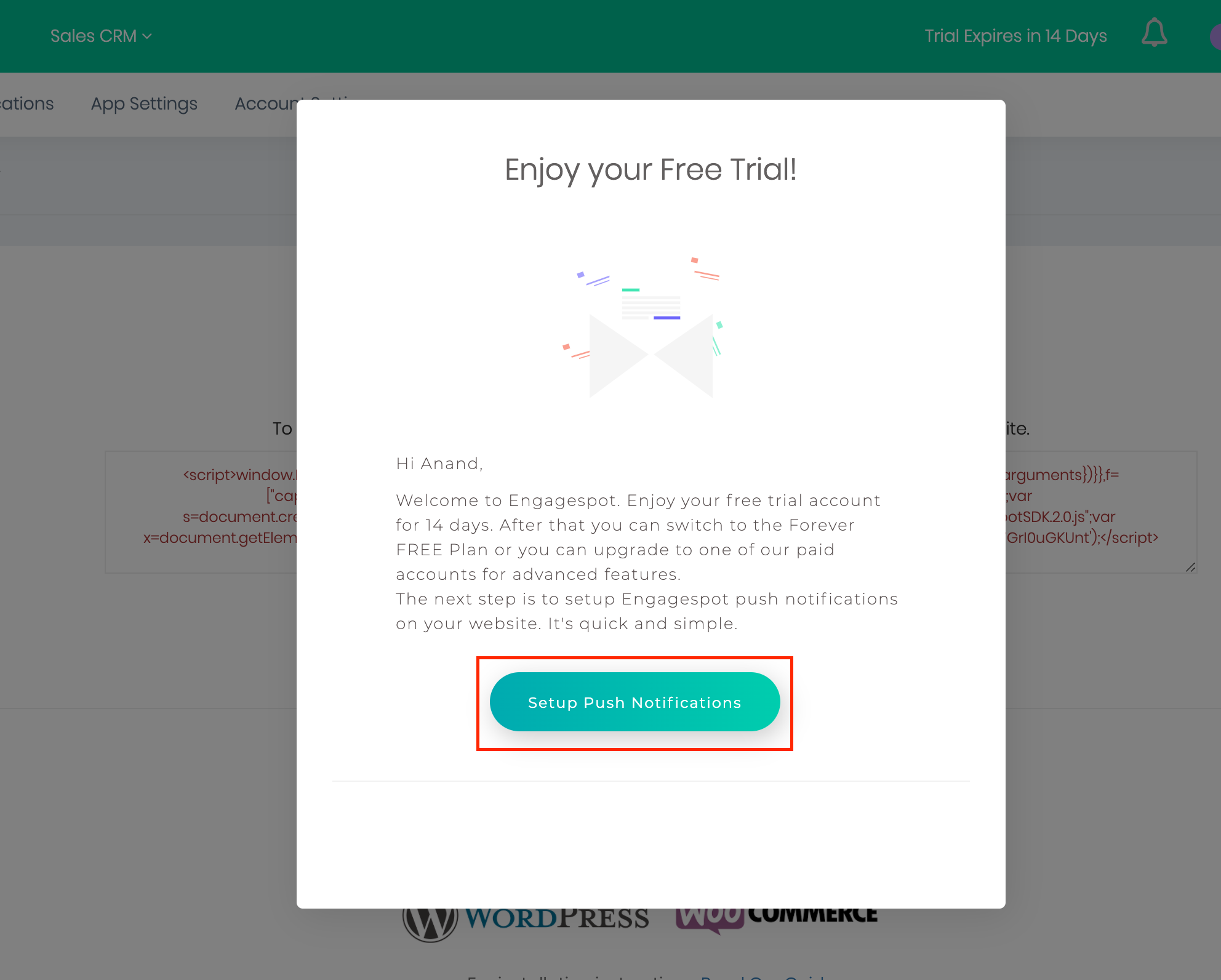 STEP 2. Choose the nature of your application. Though Engagespot is most suitable for web dashboards, you can still use it on WordPress or other web based apps. Then click CONTINUE button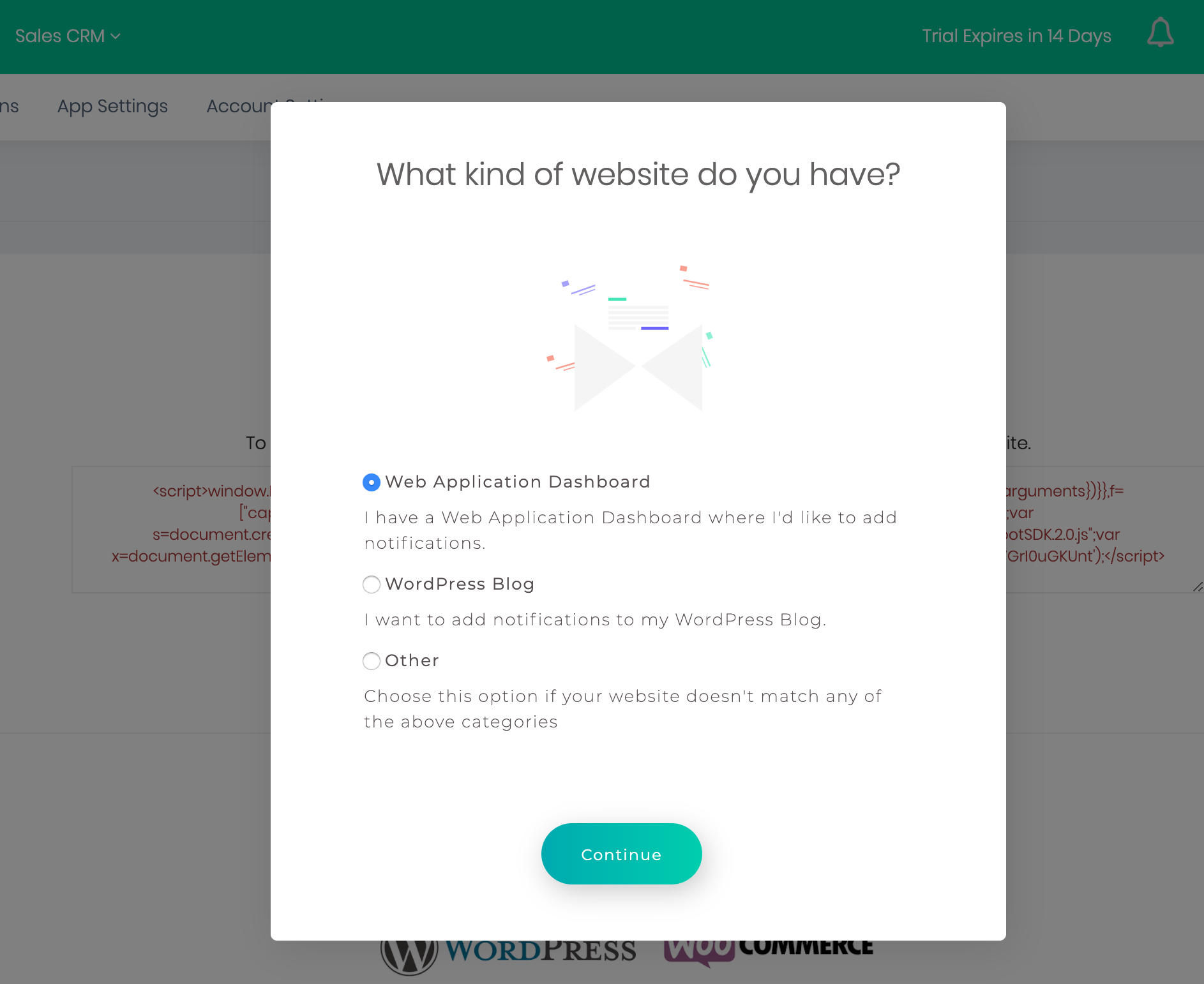 You can also chat with the onboarding assistant by clicking the chat icon from bottom right side of the dashboard.
Step 3. There is a three step process through which you can configure and install the Engagespot bell icon on your web dashboard.
Please don't skip these steps as it is required for Engagespot notifications to work properly.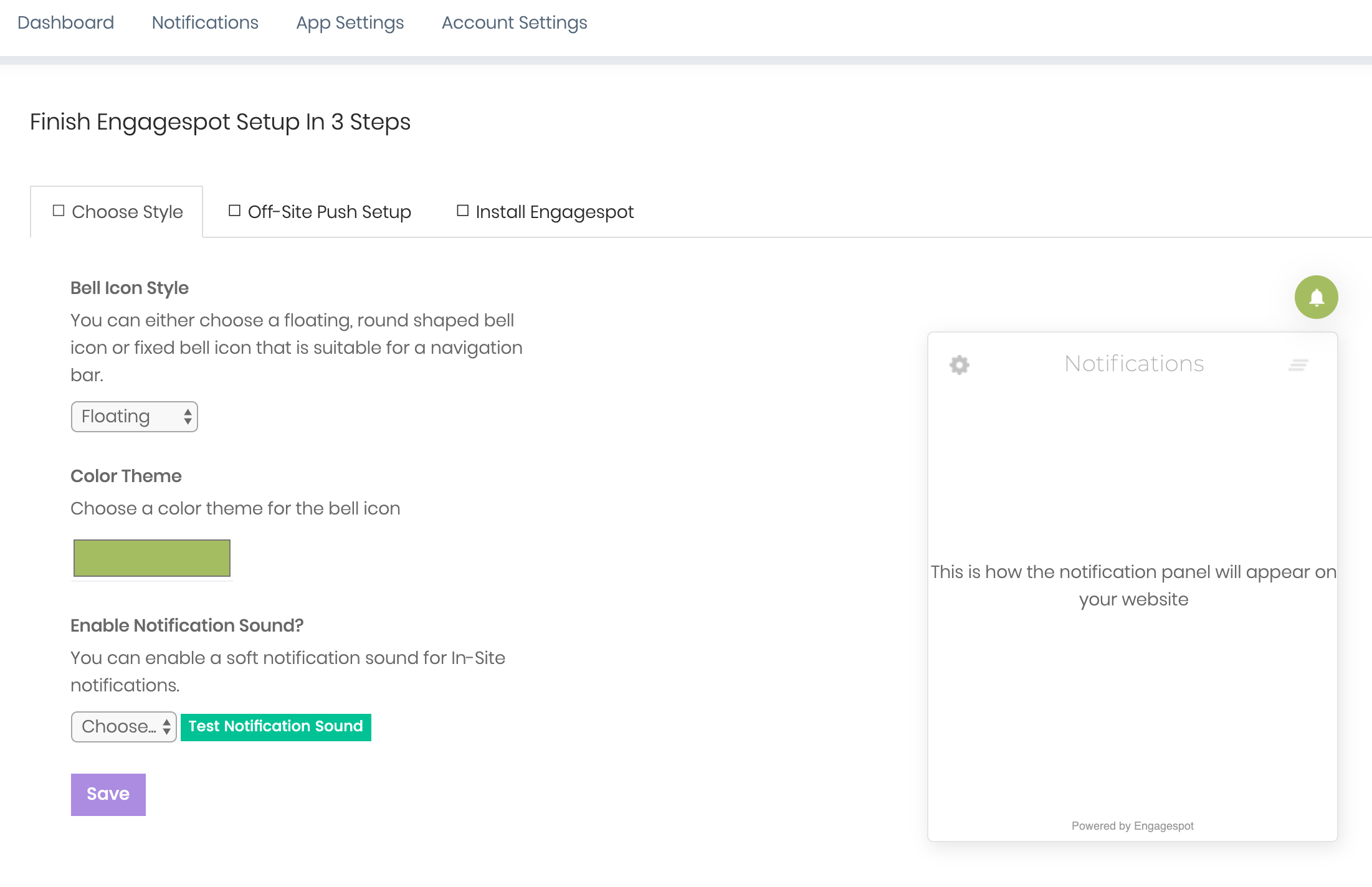 Bell icon style. Engagespot bell icon can be installed in two ways in your dashboard. Floating and Embed inside a div element. A detailed guide on choosing the bell icon style is available here
Color Theme. This is applicable only for floating bell icon. You can select a color of the bell icon.
Enable Notification Sound. You can play an alert sound, when a realtime notification is received. Please note that, this sound is played only when the user is online on your web application.
Make sure to click the Save button at bottom after making the changes
Step 4. Enable Off-Site push notifications on your web application. Off-site push notifications or simply native web push notifications are sent to users who are not active on your web application. Detailed instructions on off-site push notifications are available here
If your web app is an SPA like React, Angular, Vue, Please read this guide as well.
Step 5. Copy the Javascript code to your web dashboard where you'd like to have the bell icon. Just paste it right before the </head> tag of every page of your dashboard.
After pasting the code to your web app, just open and check if you can see the bell icon on your app. Finally, click the Check Installation button to verify if the installation was successful.

If you've successfully installed Engagespot to your web app, you'll see a message like this

If you want to send notifications to individual users on your web application, there is an additional setup required. To configure your app for one to one user specific notifications, read the guide here